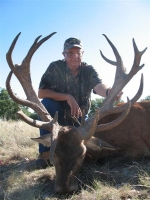 Texas Exotics have grown in popularity during recent years and Rocky Woodford Outfitting is proud to offer hunting on several ranches hosting many species of world class animals. Texas habitat is much like that of South Africa and those anmals have adjusted very well here allowing hunters the opportunity to hunt many species without the travel and shipping expense of taxidermy work associated with hunting abroad. Because there is not a season for hunting exotics in Texas, this is a great hunt to plan outside the general hunting seasons. It's also been a very popular hunt to work in with Spring Turkey or Whitetail Deer hunting trips.
The ranches we hunt offer both low fence and high fence, fair chase hunting.
"Jerrie & Rocky, Thanks again for a fantastic time down at Junction. You folks sure know how to throw a hunting trip for an old man and his brother-in-law. We both enjoyed the hunt and hope we will get the opportunity to do so again next year...Best regards and thanks again, Keith"
Low fence species available:
Black buck Antelope
Sika Deer
Axis Deer
Variety of Sheep
Depending on the species and ranch you choose to hunt, as well as time of year, accommodations vary. We offer our camp/lodging facilities during our Whitetail Deer and Spring Turkey Hunting seasons and can also schedule these facilities outside of those hunting seasons for groups. We offer hunting on other ranches that offer accommodations which are quite comfortable to 5 star, or for the single hunter or couple choosing to hunt outside of regular hunting seasons, hotel accommodations are sometimes used.
Prices can vary per ranch but the prices posted on our Schedule & Pricing page are fairly accurate.

Click Here for Schedule & Pricing
(Click on picture to enlarge!)